The United Nations Environment Programme (UNEP) is the leading global environmental authority that sets the global environmental agenda, promotes the coherent implementation of the environmental dimension of sustainable development within the United Nations system and serves as an authoritative advocate for the global environment.
UNEP work encompasses:
Assessing global, regional and national environmental conditions and trends
Developing international and national environmental instruments
Strengthening institutions for the wise management of the environment
Mission
"To provide leadership and encourage partnership in caring for the environment by inspiring, informing, and enabling nations and peoples to improve their quality of life without compromising that of future generations."
UNEP Priorities
Drawing upon the scientific evidence, priorities emerging from global and regional fora, and an assessment of where UNEP can make a transformative difference, UNEP's work focuses on 7 cross-cutting thematic priorities, thematic priorities as embedded in the current Medium Term Strategy 2014-2017 & also here is the new Medium Term Strategy 2018-2021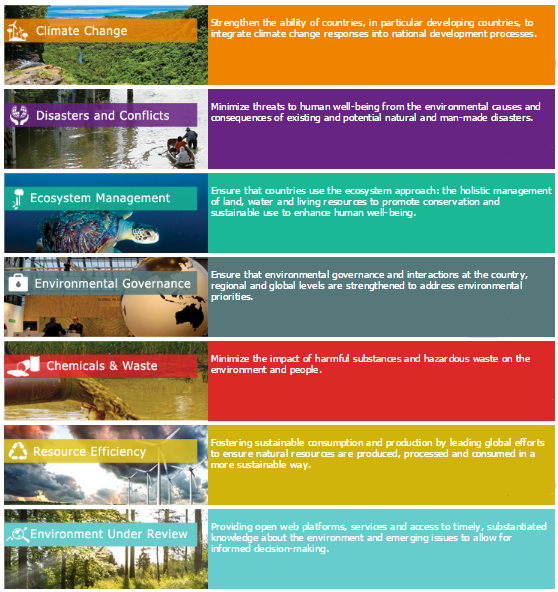 In addition to its programmatic priorities, UNEP continues to focus on the Green Economy as well as contributing to the environmental dimension of the post-2015 agenda and development of sustainable development goals following the outcomes of the Rio+20 conference.
Green across India is the right spot where you can find summary of all latest happenings on environment in Indian context. We aim to bring you all kind of green news from India so that you can update your eco-friendly efforts' profile. There is no room for delays anymore as the dramatic shifts in climate have already begun to appear and unless we do not commit to make amendments in our ways we stand no chance to become a superpower in coming centuries. The topics that will be discussed at Green across India portal will centralize over two specific domains: one calculations, facts, and figures related to the damage that is being done to our environment and second the initiatives that are bring adopted on various levels to prevent any further casualties to environment.
Green across India invites all its readers to come and join the parade where you can read, reflect, discuss, present, and summarize your point of views as well as efforts. Your hands will be joined by our media partner times of India that is not only working to collect latest happening on ecology but will also work to disseminate your efforts in this respect. A recent UN report on climate change claims that India is among the few counted nations that will be witnessing abrupt climate changes in coming years. The drastic change in climate cycle brings with it a greater risk of food & water shortage which will cause mal nutrition in those living below poverty line. We need to bring dramatic changes in our habits and attitude as the given deadline is not far away than middle of present century. The latest green news from India focuses on all such details along with latest measures that are being taken in different parts of country to fight this situation.
Building the world's largest environmental movement
Earth Day Network's mission is to broaden and diversify the environmental movement worldwide and to mobilize it as the most effective vehicle to build a healthy, sustainable environment, address climate change, and protect the Earth for future generations.
Growing out of the first Earth Day, Earth Day Network is the world's largest recruiter to the environmental movement, working with more than 50,000 partners in 196 countries to build environmental democracy. We work through a combination of education, public policy, and consumer campaigns.
The first Earth Day on April 22, 1970, activated 20 million Americans from all walks of life and is widely credited with launching the modern environmental movement. The passage of the landmark Clean Air Act, Clean Water Act, Endangered Species Act and many other groundbreaking environmental laws soon followed. Twenty years later, Earth Day went global, mobilizing 200 million people in 141 countries and lifting environmental issues onto the world stage. More than 1 billion people now participate in Earth Day activities each year, making it the largest civic observance in the world.
A VISION FOR CHANGE
As the 50th Anniversary of Earth Day approaches, the time is long overdue for a global outpouring of energy, enthusiasm, and commitment to create a new environmental paradigm. Earth Day 2020 can be the catalyst that galvanizes an unparalleled global collaboration.
BROADEN
At every turn, EDN works to broaden the definition of "environment" to include issues that affect our health and our communities, such as greening deteriorated schools, creating green jobs and investment, and promoting activism to stop air and water pollution.
DIVERSIFY
With our partner organizations, EDN provides civic engagement opportunities at the local, state, national and global levels around the world. Recognizing that climate change impacts our most vulnerable citizens first and most severely, EDN often works with low income communities to bring their voices and issues into the movement.
MOBILIZE
For the past 45 years, EDN has created civically–oriented innovative programs with partners both inside and outside of the environmental movement to tackle new challenges. Our successful environmental campaigns on issues ranging from voter registration to environmental education make Earth Day Network an environmental leader.